Sturgeon: Brexit could have 'profound consequences' for NHS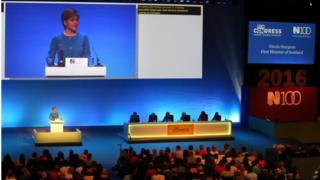 Nicola Sturgeon has argued that the UK leaving the European Union could put the NHS and workers' rights at risk.
Speaking at the Royal College of Nursing's annual congress in Glasgow, the first minister said the referendum result could have "profound consequences" for health services.
The Leave campaign claim a Remain vote could cost Scotland's NHS £600m a year.
Meanwhile, BBC Scotland is to host an EU referendum debate in a special edition of Reporting Scotland.
The debate, chaired by Glenn Campbell, will pit Remain supporters Kezia Dugdale and Joanna Cherry against Brexit-backers Michael Forsyth and Jim Sillars.
Ms Sturgeon told the RCN conference that the referendum could have "profound consequences for the future of the health service right across the UK."
She said: "The EU is not perfect, but our membership brings significant benefits, such as the protection of employment rights; the right to paid maternity, the right to paid holidays and not working more than 48 hours a week, and the right to not be discriminated against.
"All of these are protected by the EU. I wouldn't fancy leaving them in the hands of David Cameron, Boris Johnson and Nigel Farage.
"I wish that people like Boris Johnson and Nigel Farage just once could acknowledge the contribution migrant workers make to our NHS, rather than demonising them at every turn.
"The idea that the NHS could fall into the hands of people to the right of George Osborne and Jeremy Hunt fills me with horror."
The Vote Leave campaign has claimed that Britain would have more money to spend on the EU if it votes to leave.
Ms Sturgeon dismissed the idea that those leading the Leave campaign would choose to increase NHS spending was "deceitful and contemptible", adding that "to protect the NHS, we need to vote to remain".
However, Tom Harris, director of Scottish Vote Leave, said Ms Sturgeon was "sticking her head in the sand" by "ignoring the pressures on local health services that would result from a Remain vote".
He said: "Research releases show that if existing levels of EU net migration continue, NHS Scotland will require an additional £309m per year by 2030 to maintain current funding levels.
"But since migration is expected to climb far higher due to the introduction of the UK living wage and the accession of the new EU member countries, NHS Scotland may require well over half a billion pounds extra by 2030 - £624m per year - to maintain current funding levels."
Mr Harris also claimed that if Albania, Macedonia, Montenegro, Serbia and Turkey were able to join the EU by 2020, Scotland would need an additional 834 extra doctors and 2,967 more nurses.
However, these figures were challenged by former Chief Medical Officer for Scotland Prof Harry Burns, a member of the Scotland Stronger in Europe campaign, who said they were "simply wrong".