UK Budget 'to hit poorest Scottish families'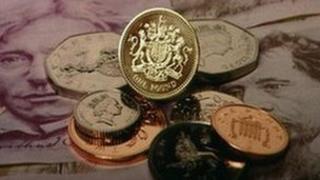 Scotland's poorest families will be hardest hit by measures in last month's UK government Budget, according to a Scottish government report.
The report analysed plans set out in the Tory-Lib Dem coalition's budget.
The Scottish government's chief economic adviser predicted next year's 2.5% VAT rate rise would cost the average Scottish household £380 a year.
Dr Andrew Goudie said about 621,000 families in Scotland would lose out as a result of a freeze in child benefit.
The report also suggested households with income above £25,000 would see their benefit entitlement cut next year as a result of the three-year child benefit freeze and restrictions on child tax credits.
A spokesman for Scottish Finance Secretary John Swinney said the report underlined the case for Scotland being given responsibility for its own finances.
The SNP MSP added: "Vulnerable households and families across Scotland are being asked to bear the brunt of Tory-Lib Dem cuts - and this is only the start of a financial consolidation programme from Westminster the likes of which we have never known."
A spokeswoman for the Scotland Office responded by arguing the Budget was "tough but fair".
She said: "It is a decisive budget that deals with the record deficit. We are now taking unavoidable tough decisions but we are doing this in a way we believe will strengthen and unite the country.
"Everyone has to contribute but the rich will pay more than the poorest. And we will protect the most vulnerable, including low-income families and pensioners."
Labour MP Jim Murphy described Chancellor George Osborne's Budget as "a vicious assault on Scottish families and an attack on Scottish jobs that will damage the economy".
"The Budget contains many cruel surprises at a tough time for Scottish families", he said.
"The rise in VAT is a double whammy. It will hit the poorest people the hardest, adding £400 a year extra to family bills, but equally worryingly it will add a new cost to doing business in the UK."