£5m east of Scotland business loan fund launched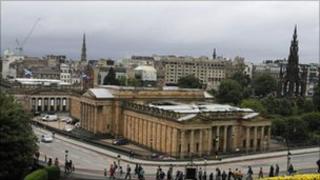 A new £5m fund has been launched to help businesses create hundreds of jobs in the east of Scotland.
The East of Scotland Investment Fund (ESIF), which is backed by a consortium of nine local authorities, will provide loans to new and growing small and medium sized enterprises.
The fund expects to help create 1,000 new jobs over the next five years.
It is modelled on the West of Scotland Loan Fund which has been helping businesses for the past 14 years.
Fund chairman George Sneddon said: "With £5m to invest in new and growing small and medium sized businesses, the fund will contribute significantly to the east of Scotland business community."
ESIF secured funding of £1.78m from the European Regional Development Fund and a private sector contribution of £1.5m from the Royal Bank of Scotland.
A further £1.72m has been provided by nine member authorities - Angus, Dundee, Edinburgh, Falkirk, Fife, Midlothian, Moray, Perth & Kinross and West Lothian.