Action sees fine payment increase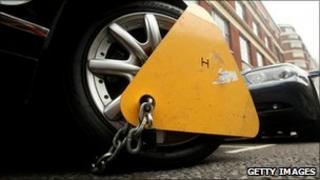 Tough action on people failing to pay sheriff court fines has helped push collection rates up to 91%.
The Scottish Court Service said it has been taking action including cutting benefits, freezing bank accounts and seizing cars.
Collection of fiscal fines has also increased, said the service, from 40% to 72%, since it took control of the payments in March 2008.
Fines were either paid in full or in agreed instalments.
The court service said 14 car seizures across Aberdeen, Glasgow, Edinburgh and Livingston had been successful in seeing the payment of fines.
Only this week, the owners of four cars clamped in Glasgow who failed to pay fines for not displaying tax discs paid the following day.
Another fine defaulter was stopped at an English airport and told to pay a £100 fiscal fine from Dumfries before boarding his plane.
The 26-year-old, who was detained by transport police, was only released once he paid up by debit card over the phone.
Eric McQueen, of the Scottish Court Service, said: "The range of, and increase in the use of enforcement measures means that people with outstanding fines are recognising more and more that there is nowhere to hide and they could be next."
The body also said 79% of district court fines were on track to be paid, with the proportion at 68% for police antisocial behaviour fixed penalties.