Countess of Wessex honours Scottish Army medics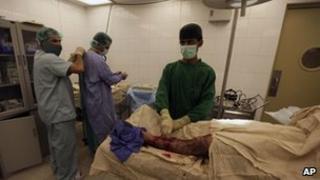 A unit of medics from Scotland who volunteered for service in Afghanistan has been presented with campaign medals by the Countess of Wessex.
The commanding officer of 205 Scottish Field Hospital, Colonel David McArthur, said it had been a challenging and demanding tour of duty.
The 60 doctors and nurses were dealing with up to 10 patients each day.
The countess presented Afghanistan Campaign Medals to members of the unit at a ceremony in Inverness.
Colonel McArthur said his staff were making life and death decisions in the hardest possible circumstances.
He added that it was physically and mentally exhausting work, but he was satisfied that they had done the best they could.
Colonel McArthur said some of the team were on their fourth or fifth tour and most would be willing to go back.