Fergus Muirhead answers your money questions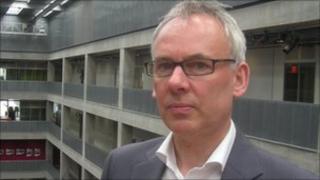 I'm Fergus Muirhead and I'm trying to answer any money or consumer problems you may be facing at the moment.
You can contact me by e-mail at fergus@bbc.co.uk
I will deal with a selection of your e-mails every second Wednesday on lunchtime Reporting Scotland, Scotland Live and on the BBC Scotland news website.
Q. I was always told that if you have faulty goods then your warranty etc. was with the shop you bought the goods from. However, both myself and friends have found that when you return a mobile phone to the shop you bought it at you're told to return it to the manufacturer at your own expense. Is this correct? Brian Millar.
A. The simple answer to this is that you can return faulty goods to either the retailer or the manufacturer. The retailer can be responsible because your contract under Sale of Goods legislation is with them and the manufacturer because for the first 12 months or so after purchase you are likely to be covered by a manufacturer's warranty. In most cases it makes sense to take faulty goods back to the retailer and you shouldn't be fobbed off if you are told that it is nothing to do with them. As another option under Section 75 of the Consumer Credit Act you may have a claim against the credit card company if you paid for your faulty goods using a credit card, and the goods cost more than £100 but less than £30,000.
Q. I bought a 50-inch plasma TV from a leading outlet last November. I asked in a number of outlets about the stories of 'screenburn' and was assured by ALL shop staff that this was a myth. Well, I have had the TV for 8 months and I have very noticeable screenburn which affects my enjoyment and has affected my enjoyment of my HD package from Sky. I feel very short-changed and wonder what my rights are and the best way to approach the problem? M Swainson.
A. The best way to deal with this if you feel that your TV is faulty, and by that I mean that you consider it not to be 'fit for purpose' is that you speak in the first instance to the shop you bought the TV from. Under the Sale of Goods Act you have the right to expect goods to be 'fit for the purpose for which they were purchased' and 'as described' (and I'm sorry for using such formal language but these are the words used in Sale of Goods Act). If, as you suggest, that is not the case then you should be able to ask the retailer to deal with it for you and put the fault right. It may be that they will want an independent expert to examine the TV to confirm that there is a 'fault'. Screen burn-in has long been an issue with Plasma TVs and you may have an argument with the retailer and/or the manufacturer as to whether the screen burn-in is actually a fault or due to what they will call 'normal wear and tear'.
Q. I'm currently unemployed and soon to be divorced and have three company pensions from previous employers with pension funds as follows: Company 1:- £25,000, Company 2:- £7,500, Company 3:- £2,000. My wife has substantially more funds in her three pensions to the tune of £20,000 to which I am entitled to half of the difference i.e. £10,000. This will likely involve a pension transfer from one of her funds to mine to the tune of £10,000. My questions to you are as follows: 1. Can I nominate any of my company pensions to receive the £10,000 pension transfer; if so what one would be the best? 2. Can I use this sum to open a private pension or does it need to go into one of my existing pension accounts? 3. Can I ask for sum i.e. £10,000 to be paid to me in cash rather than put it in a pension fund? Paul Rooney
A. I think it's easier to answer the last question first. The simple answer is no, unless you are at least 55 years old, in which case you are entitled to take up to 25% of a personal pension fund as tax free cash. If you are younger then you will have to leave it in a pension until you reach 55. As far as your first two questions are concerned it depends on how you are going to deal with your pensions - are you going to 'share' them or 'split' them, and I don't have enough information from you to be specific. In general you should be able to nominate which of your funds receives the £10,000 and you should be able to set up a personal pension rather than add it to one of the existing schemes but it all depends on the exact circumstances of your settlement and I don't know enough to be any more specific at this stage.
Q. Someone has to pay for an expensive cruise (£20,000) and is considering paying by credit card with a limit of £8,000. If they make a payment of £12,000 to the credit card to give it a positive balance and then pay the £20,000 - and the cruise company subsequently goes bust - are they fully covered for the full £20,000 by the credit card company or merely the £8,000 paid using "credit"? Tom Davidson.
A. Let's deal with the second question first. The surcharge is becoming more common these days and is the source of much debate. The cruise company is entitled to add the surcharge, they will tell you it is to cover their 'administration' expenses but I agree that without a cap it can add a fair amount to an already expensive holiday. The only other option is to pay by way of a card that isn't going to charge you this surcharge, or to borrow the money at less than 2.5% interest! Of course that leads us back to the first part of your question, which is that the reason for using a credit card in the first place is to provide you with some protection should anything happen to the cruise company. As I understand it you will only be covered by the credit card company for up to your initial credit limit, in this case £8,000. Having said that, if you paid a deposit of at least £100 using your credit card with the balance of the holiday being paid in cash then you would have a claim against the credit card company for the total cost of the holiday.
Q. On 17th May 2010 my daughter Mary booked my husband and I on a flight to Barcelona but unfortunately due to the ash crisis we did not get to go. Aer Lingus, with whom she booked the flight, refunded the money for flights only, they did not mention hotel and chose to ignore it. We did however take out insurance. My daughter booked the hotel separate and Aer Lingus have yet to reply as to our refund, I've checked with the credit card company who say it's not their fault, the hotel people refuse to answer emails and as I can't speak Spanish I thought you might like to help if you could I'd be very grateful. It cost almost 300 Euros for a five-day stay in a hotel that we didn't get to. Catriona Burke
A. My first port of call here would be with your insurance company. If you booked the flight and accommodation separately then you are unlikely to get anywhere with Aer Lingus for the accommodation part of your holiday but it may be that your insurers will be prepared to pay up. It depends on which company you used since different insurers have taken different views of the volcanic ash problem, and many of them have refused to pay out. I would start by writing to them and explaining what happened, enclosing as many receipts as you still have to help validate any potential claim.