Pink-footed geese return to Scotland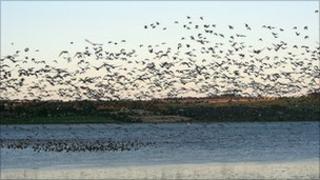 The first pink-footed geese of the season have arrived at the Montrose Basin Wildlife Reserve in Angus.
The Scottish Wildlife Trust said their arrival marked the start of the wintering season for Scotland's wildlife.
Several thousand of the geese have already made it to their winter home and in total 50,000 pink-footed geese are expected to fly to the reserve.
The first geese were spotted coming into the basin on 14 September.
Natural wonder
Staff and volunteers at the Scottish Wildlife Trust's visitor centre will monitor the goose population to see if it will reach the same heights as last year when more than 50,000 geese could be viewed from the visitor centre's observation window.
Caroline Hendry, Scottish Wildlife Trust's visitor centre manager, said: "Every year we await our pink-footed geese with great anticipation as their arrival starts a frenzy of activity on the reserve.
"The sight of up to 50,000 birds in one area is a wonder of Scotland's natural world and it is not to be missed."
Pink-footed geese nest in Iceland and migrate to Britain in autumn to spend the winter months in a milder climate.
They leave Scotland around March or April to return to their Icelandic breeding ground.