Members back National Trust 'fresh start'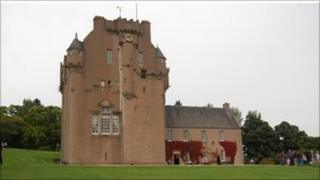 A package of reforms aimed at modernising the National Trust for Scotland have been overwhelmingly backed by its members.
Delegates voted 424-2 in favour of recommendations put forward by former Holyrood presiding officer George Reid.
Mr Reid had described a "gridlocked" 1920s governance style at the Trust and said board members had known the current set-up was "not sustainable".
He also called for the Trust to focus on a smaller core of key properties.
Members were urged to "have the courage" to put problems behind them and "go for a fresh start".
The Trust's members considered the report at an AGM in Glasgow, where new chairman Sir Kenneth Calman was officially installed.
Outgoing interim chairman Dick Balharry said: "This is a new dawn for the National Trust for Scotland.
"I am entirely positive about the future.
"The new chairman, Sir Kenneth Calman, and chief executive Kate Mavor now have the remit and authority to move ahead with the Trust's modernisation and to ensure it endures to conserve Scotland's heritage."
A pressure group, set up to challenge the Trust management, disbanded before the AGM.
In Trust For Scotland, formed by disaffected members of the heritage organisation, said they had helped spark "radical reform".
'Radical reform'
Last year's AGM was held in Edinburgh amid concern over the Trust's governance and for the future of some of Scotland's most treasured sites.
The pressure group was angry at moves to close historic buildings and sell Wemyss House, its Georgian headquarters in Edinburgh, while its finances are squeezed.
A spokesman for In Trust For Scotland said the group formed because of an outcry over a closure and redundancy programme in 2009.
He added: "It seemed to us yet another example of the out-of-touch and secretive management style which did not serve the Trust's interests.
"We called for radical reform and the strategic review by George Reid identified many of our concerns and proposed a new direction.
"Now that our objective of stimulating widespread discussion on the need for radical change has been achieved, In Trust For Scotland bows out with immediate effect.
"The work of persuading the NTS to become 'fit for purpose' moves on.
"It is the responsibility of the entire membership and new governance structure to remain vigilant and make sure needed changes are timeously, transparently and wisely implemented under our new chairman, Sir Kenneth Calman."
Mr Reid's review found that the Trust accumulated "all sorts of bits and pieces over the years", including bungalows, sheds, woodman's huts and steadings.
"They're not of heritage significance - get rid of them," Mr Reid said.