Rise in number of Scots hospitals buying 'obesity beds'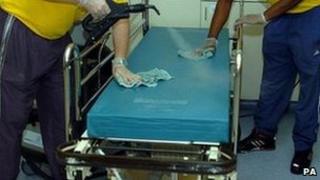 Hospitals in Scotland have invested thousands of pounds into purchasing specialist beds which can take patients weighing up to 78 stone.
A Freedom of Information request by the Press Association revealed that seven NHS boards had spent more than £154,000 since 2008 on the "bariatric beds".
At least five health boards have also spent thousands hiring beds for patients weighing more than 50 stone.
It is understood the beds are more commonly needed as obesity rates rise.
NHS Fife confirmed it had bought three bariatric beds for people weighing up to 78 stone in February 2009 at a cost of £24,000 for all three.
The health board said: "The beds were purchased as NHS Fife has seen a rise in the number of obese patients being admitted."
Since January 2008 the health board rented two beds, which could cater for a weight of up to 78 stone, at a cost of £2,500 in 2008 and £1,200 in 2010 for patients.
The board's "regular profiling" beds can take up to 39 stones in weight and there are approximately 200 in use.
In the last three financial years, NHS Grampian spent £62,751, excluding VAT, on bariatric beds with a safe working load of 70 stone.
The health board said it had a total of 12 specialist beds, catering for a "safe working load" of 70 stone, in operation.
NHS Western Isles invested £19,387.50 in March this year for a bariatric bed that could take a weight up to 60 stone.
NHS Forth Valley leased four bariatric beds for patients weighing up to 39 stone at a cost of £50,376 between April 2008 and March this year.
NHS Shetland, NHS Highland, NHS Orkney and NHS Tayside also said they spent thousands of pounds buying bariatric beds since January 2008.
NHS Orkney also said 3.5-man hours were spent repairing the bariatric bed they had bought.
Asked whether the bed was damaged by obese and overweight patients, NHS Orkney said: "For general breakdowns we do not record if the equipment was broken due to overweight or obese patients."
NHS Dumfries and Galloway and NHS Ayrshire and Arran said the highest weight beds could take in the health board was 71 stone.
Most health boards said patients weighing more than 50 stone or over would not have to pay for the hire of their own bed, if one had to be rented.
Bed replacement
NHS Greater Glasgow and Clyde, which has beds that can cater for people weighing up to 65 stone, said it hired beds to support a weight up to 78 stone, when needed.
The health board said it did not have systems in place to collect information on exactly how much it spent on hiring or buying "bariatric beds" since 2008.
A statement said: "At present specialist beds are generally hired rather than purchased as required, ie whenever bariatric patients are admitted or discharged."
NHS Lanarkshire said it embarked on a "general" bed replacement programme between 2007 and 2009 to improve and modernise their beds at a cost in the region of £940,000, plus VAT, including four beds with the capacity to take patients up to 72 stone.
It added: "It is important to note that we do not have beds specifically for bariatric patients. These beds are for patients with a range of conditions and not exclusively for overweight patients."