Fewer Scottish schools in 'poor condition'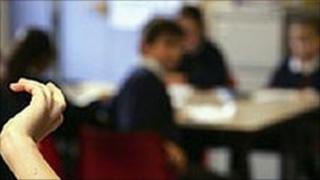 Fewer schools are in a bad condition than three years ago, according to new figures from the Scottish government.
Its survey found 19% were in a "poor" condition, while a further 2% were described as being "bad".
The SNP said 36% were less than satisfactory when it came to power in 2007.
Labour, which was in power with Liberal Democrats until three years ago, said it set up many of the projects which had led to school improvements.
The figures also showed that in the past three financial years a total of 303 schools had been built or refurbished.
Of these, 151 were funded via private finance initiative (PFI) or using the non profit distributing (NPD) model, while 152 were paid for using direct capital funding.
New projects
Education Secretary Michael Russell said: "With 303 school projects completed in three years, we have far exceeded our commitment to match, brick for brick, the 250 schools which the previous administration pledged to rebuild or refurbish.
"What's more, 170 of these 303 schools - more than half - have been delivered through traditional capital funding and not-for-profit schemes, not the discredited, expensive PFI scheme."
Labour education spokesman Des McNulty said: "The figures published today show that 151 schools in the last year have been built or refurbished under Labour PPP schemes, which the SNP has abandoned, and 152 more have been completed by local councils out of their own resources.
"The Scottish Government have not built any at all and they have drained the pipeline of new projects.
"Children and communities with unsuitable buildings are being condemned by the SNP to years of delay before these buildings can be replaced."
Tory education spokeswoman Liz Smith said: "Scottish Conservatives welcome any progress on school building but the fact is that one in five is still either in 'poor' or 'bad' condition."
And Liberal Democrat education spokeswoman Margaret Smith said: "Young people deserve to get the best education in surroundings that befit and aid their learning.
"But these figures reveal the SNP have left our children to learn and grow up in schools in dire need of repair."