Homes Reports encourage shift from 'offers over' system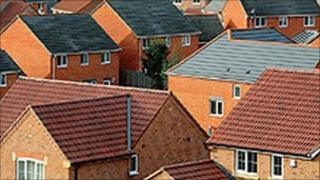 Compulsory Home Reports have encouraged a move away from Scotland's "offers over" tradition when selling houses, a Scottish government report has found.
A review of the scheme also suggested the reports had encouraged owners to make improvements to their properties before putting them up for sale.
About 150,000 Home Reports have been completed in Scotland since 2008.
However, the Scottish Law Agents Society (SLAS) said most buyers appeared to "ignore" the reports.
Michael Sheridan from the organisation, said buyers were only interested in the valuations stated in the Home Reports and added that the "offers over" system remained the most common expression of sale.
He added: "The buyer cannot rely upon the Home Report because he cannot discuss it with the surveyor. Indeed the terms and conditions set out in the Home Report often caution the purchaser against relying upon it by reference, for example, to the conflict of interest between buyer and seller."
Home Reports include a single survey which details the condition of the property, a valuation, an energy report and a property questionnaire completed by the seller.
The survey can only be carried out by a chartered surveyor and usually costs several hundred pounds.
The system attracted controversy when it was launched nearly two years ago, with fears that they would make a sluggish housing market stagnate even more.
But an evaluation which examined the first year of the scheme found there was no reason to believe the reports had a negative effect on the housing market.
The report revealed that about a third of sellers said they had used the information to improve their property before placing it on the market.
'Biggest purchase'
It also said that Home Reports were likely to strengthen the shift away from the "offers over" system, as all prospective buyers had access to a property's valuation up front.
Prior to the introduction of Home Reports, more than 90% of buyers relied on a mortgage valuation, which contained little information about the condition of the property.
Housing Minister Alex Neil said: "Buyers are being given much better information up front, giving them more confidence before they make the biggest financial leap of their lives.
"For sellers, it's proving a great way to guide them on how best to prepare the property for sale."
Julia Clarke, a spokeswoman for Which? in Scotland, said: "A home is usually the biggest purchase any of us makes, and in this economic climate, knowing as much as possible about it in advance makes particularly good sense."