George Galloway launches Holyrood election campaign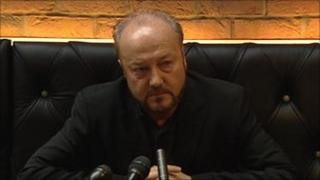 Veteran politician George Galloway has launched his bid to become an MSP, despite having to go up against Gail Sheridan in the fight for votes.
The former Respect MP is hoping to win a seat on the Glasgow list in May, after saying Holyrood needed "heavy hitters".
Mrs Sheridan, wife of disgraced politician Tommy, will also stand.
Mr Galloway, a long-time friend of the Sheridans, has said he was "surprised and hurt" at the move.
Dundee-born Mr Galloway said he had not yet decided whether to stand as a candidate for his Respect party or as an independent, in his bid to win a Holyrood seat.
The 56-year-old author, columnist and radio broadcaster launched his campaign in Glasgow saying it would be based on "real Labour values".
He said he wanted the Scottish Parliament to use all the powers available to it, and that the country should raise all of the revenue that it spends.
And he backed an independence referendum, saying a No vote would "kill this argument for a generation at least".
'More interesting'
Mr Galloway said the parliament suffered from a lack of "heavyweight" political figures.
"I think these people are nonentities for a reason - they don't stand for anything, they don't believe in anything," he said.
"They have no concept of how life-changing politics can be.
"People would be more interested in what was happening in Holyrood if I was there, because more interesting things would be happening."
Meanwhile, Tommy Sheridan, who is awaiting sentence for perjury, said his left-wing Solidarity party may still fight alongside Mr Galloway during the election campaign.
Patch up relations
In attempt to patch up relations with his old friend, Mr Sheridan added: "Should a link up with George and Respect not prove possible, we would obviously urge Glasgow citizens to back the Solidarity list with their second vote.
"But, should they not be convinced to do so, would also welcome the election of George to represent Glasgow."
Mr Sheridan is expected to be jailed at the High Court in Glasgow later this month over his high-profile battle with the Sunday tabloid News of the World, which printed a series of allegations about his private life.
His wife is expected to replace him as Solidarity's top list candidate in Glasgow.
Mr Galloway, a founder member of the anti-war Respect party, was a Labour MP until he was expelled in 2003 over his opposition to the party's actions on Iraq.
He was elected MP in the Bethnal Green and Bow constituency in 2005 but failed to win a seat in May's general election.