Teacher 'hit pupil with chisel' at Aberdeen school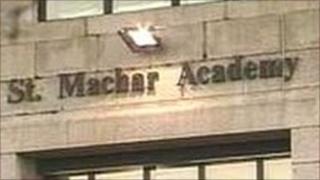 A teacher has been struck off for hitting a pupil with a chisel in a classroom.
Douglas Tredinnick worked as a technology teacher at St Machar Academy in Aberdeen when he hit the child on the hand on 9 September 2008.
He also hit another pupil on the back of the head in a separate incident on 15 September that year.
The General Teaching Council for Scotland heard from three pupils who said they had witnessed the attack.
The pupils, who gave evidence via video link, told the hearing the pupil had marks on his hand "consistent with having been struck by a chisel".
Mr Tredinnick was not at the hearing, at Clerwood House in Edinburgh.
In a separate hearing, a primary school teacher was also struck off for hitting a pupil on the leg.
Linda Steel hit the pupil on the leg at the additional Support Centre of Rimbleton Primary School in Glenrothes on 27 January 2009.