Fuel 'could rise' to £8 a gallon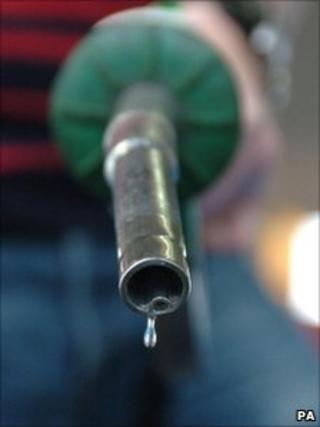 Increased taxes and rising crude oil prices could soon push the price of fuel to as much as £8 a gallon, a motoring group has warned.
The RAC Foundation said some petrol stations in the Orkney Isles were already charging £1.50 a litre (£6.82 per gallon).
The prospect of prices rising to £1.76 a litre (£8 a gallon) in rural areas was possible, the foundation said.
It said crude oil prices were still a long way below the record high.
Prices reached $147 a barrel before the recession in 2008 but are currently about $100 a barrel.
Philip Gomm, from the RAC Foundation, said economic recovery around the world could increase demand for oil and push up prices.
The average price of petrol is rising at the highest rate for 10 years.
The average cost of a litre of unleaded petrol has gone up by 6.13p since mid-December to a record 128.27p (£5.83 a gallon).
The price of diesel is even higher and in some rural areas the cost of fuel is more than 20p a litre above the average figure.
There are further increases in duty planned for April as well as expected rises in the price of oil.
Mr Gomm said drivers would not stand for £1.75 a litre in central and inner-city areas.
He said the government would have to take action before it got that high.
Mr Gomm added: "It is technically possible for fuel prices to hit £8 a gallon in inner-city areas if OPEC (the Organisation of the Petroleum Exporting Countries) and other oil producing countries decide to turn down the taps.
"If the economic recovery continues and demand for oil increases again, OPEC could decide to limit the supply again as they did before the recession in 2008, and push prices back up towards the record high of $147 a barrel."
The RAC Foundation said the majority of UK motorists were not facing the prospect of £8 a gallon any time soon.
However, in northern parts of mainland Scotland, motorists are already paying £1.42 a litre.
Mr Gomm said: "While the £8 gallon of diesel is still miles off for most UK motorists, some drivers in Orkney are already paying £1.58 a litre.
"Even on the mainland, in the far north of Scotland, £1.42 a litre is a reality."