NHS security campaign launched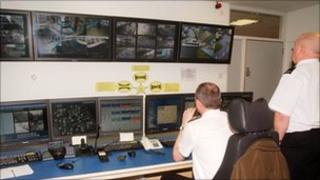 A campaign has been launched to help health boards manage security at NHS facilities across Scotland.
National guidelines and staff training are being introduced to help all boards implement similar security procedures.
The initiative will advise on staff protection measures and highlight data security and patient confidentiality.
The Health Facilities Scotland campaign was launched at Edinburgh's Western General Hospital, which has one of the UK's most advanced security systems.
The £350,000 facility uses pioneering facial recognition technology, with footage fed from 127 high definition cameras positioned around the site.
In the last year alone, the hospital's control room has provided more than 500 hours of CCTV footage to assist police with investigations.
Paul Kingsmore, director of Health Facilities Scotland, said: "We are keen to support NHS boards across Scotland to protect their people, property and information.
"Over the coming months, we will be providing advice on best practice to boards across the country through this awareness campaign."
Posters and leaflets highlighting the campaign will be distributed to health boards across Scotland.
John Jack, director of facilities for NHS Lothian, said: "NHS security is everyone's business and it affects both staff and members of the public.
"The new framework outlined in the campaign will enable all health boards to have a common approach to managing every aspect of security."