Black Watch remain on standby for Libya aid deployment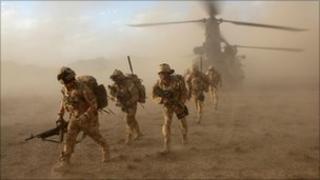 Scottish troops are still on standby to assist with humanitarian and evacuation operations in Libya, the Ministry of Defence has confirmed.
The Black Watch, 3rd Battalion of the Royal Regiment of Scotland, is on a routine deployment notice of 24-hours.
About 200 troops from the battalion were moved to the barracks at South Cerney, Gloucestershire, last week.
Heavy fighting has been taking place around Zawiya, just 30 miles west of the Libyan capital Tripoli.
But the MoD stressed any deployment of troops would be to assist with humanitarian aid, food supplies or emergency evacuations.
The 3rd Battalion, the Black Watch, are based at Fort George, near Inverness.