Scottish council chiefs call for reform plan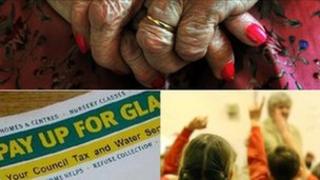 An overall plan is needed for the reform of Scotland's public services over the next few years, according to the body which represents council chief executives.
Solace Scotland made the call for radical reform in its submission to the Christie Commission on the future of public services.
It argued that the reform of services could not be carried out in a piecemeal way and that changes to one service could have a knock-on effect on another.
It said an overall "route map" was needed.
The organisation also warned of the dangers of "centralisation by default" as organisations seek to save money.
Ronnie Hinds, chair of Solace Scotland, said: "We are facing unprecedented reductions in public expenditure at the same time as demand for services is increasing faster than ever.
"This presents us with a major challenge but also a once in a lifetime opportunity to create a new generation of public services.
"We need reform, not restructure to achieve this and deliver better services with less money.
"Redrawing boundaries has proven in the past to be a costly distraction and there is no evidence that it will improve services on the ground or deliver the outcomes and savings needed."
With public finances under pressure, organisations across the public sector are looking carefully at what they do and how they do it/
Some councils have moved towards sharing services with each other or working more closely with other public services.
Meanwhile, the Scottish government is looking at the future structure of the police. This is likely to result in police force mergers or possibly a Scottish national force - the option favoured by Labour.
Mr Hinds added: "Reform means building on the best of current practice and developing new ways of providing services that are more cost effective and focus on areas of greatest need.
"We should start from the principle that best value services are those that are planned, funded and delivered locally, and that is where service providers are best held to account.
"We need to resist the temptation to centralise by default - local democracy should be the bedrock of successful, long-term reform. Successful and sustainable."