Fergus Muirhead answers your consumer questions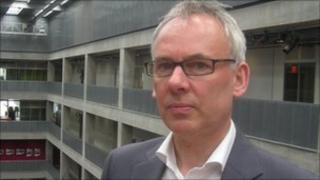 I'm Fergus Muirhead and I'm here to answer any questions you may have about any money or consumer issues.
I'll be dealing with a selection of your queries every other Wednesday on Scotland Live, on Reporting Scotland and here on the BBC Scotland news website.
Please drop me a line here at fergus@bbc.co.uk with your questions.
You can also read more on money and consumer issues on my own blog.
I am 57 and working. My wife is a housewife of retired age. We have a mortgage on our property, owing approx £60,000, with about 12 years to pay. We have received a windfall of about £12,000 and we were wondering if it would be better put to use by paying £500/month extra (the max sum) from our mortgage or investing it some other way. We are not money people but wary of the next 20 years and our pension. My wife doesn't receive a pension as she is S African. We have been married here in the UK for 22 years. What do you think about investing or larger mortgage payments? Lesley Hughes.
This is a common question and one that has no right or wrong answer. If you have no other savings then you may feel comfortable keeping your windfall in the bank for a rainy day. If you do this then you should ensure that you look for the highest interest rate you can find. It might make sense to look at investing the maximum in an ISA for you and your wife before the 5th April and the same again immediately after the 6th April with the balance that is left. This way all of the interest you receive on your investment will be tax free. If you have other savings or are comfortable with your current income levels now and in the future then repaying your mortgage might make sense. It depends to a large extent on how important it is to you to have no mortgage, and this is often a question of psychology rather than finance. It also depends to some extent on the rate of interest you are paying on your mortgage against the rate you could expect to earn by investing the money. All in all, I would suggest that you consider what it is you really want to achieve with this money in the longer term and that you don't rush into a decision without considering all of the options.
I worked for Glasgow City Council for nine years and paid into a pension fund for some of that time with Strathclyde Pension Fund. I have never over the years had any correspondence from them regarding anything to do with my pension. I have been redundant since July last year and have tried on two occasions to find out about my very small pension. However, it is like getting blood from a stone. I understood that if you were over the age of 55, you could get access to your pension, but I am having no joy. Strathclyde Pensions say I will get some correspondence six months before my 60th birthday in October. Could you please let me know if I am correct about the 55-year threshold or are they in the right to hold my pension until I am 60? Anne Watters.
This is a really interesting question and one that is going to be important for a great number of people in the coming months and years. Let's start with the legislation. You can generally start to take pension benefits at age 55, so you are correct in what you say there. Whether that applies to your circumstances will depend on why you left work. I spoke to Glasgow City Council and they told me that the normal retirement age of their pension scheme is 65. Members of the scheme may decide to retire earlier - by choice or perhaps because of redundancy or permanent ill-health -and there are specific rules that relate to each type of retirement. If you ask to retire when you are aged between 55 and 59, then you may need your employer's consent and pension benefits will be reduced to take account of these benefits being paid for longer. You can retire and receive immediate payment of your benefits at any time from age 60 onwards, and you don't need your employer's consent. But your pension may be reduced significantly in some cases because you are likely to be receiving it for longer. If you are aged 55 or over, your benefits are payable immediately without any early retirement reductions, if your employer makes you redundant or you are retired on the grounds of business efficiency. So as you will see, it is difficult to know exactly when your benefits will be paid until we know exactly why you left work in the first place. I have asked GCC to have a look at your case in a bit more detail and will come back to you once I have heard from them.
My husband and I have not used our allocation for this year for cash ISAs. We hold the following; Halifax ISA worth approx £4,000 in my husband's name, Barclays Tax Haven ISA worth £3,760 in each of our names and a Barclays Golden ISA worth £5,352 in each of our names. Can you please advise the best action to take as, unfortunately, we do not have any spare cash to top up but would it be worthwhile to transfer some money to a new provider? Lena Macdonald.
If you are not looking to top up your existing ISAs, or to take out new ones before the end of the tax year, then I think what you should be doing is looking at the interest rates you are receiving on your existing ISAs and checking to see if there are better rates available anywhere else at the moment. If you can find a better rate of interest then it would make sense to carry out some sort of consolidation exercise, unless you chose Halifax and Barclays specifically so that you did not have all of your eggs in the same basket? Remember to make sure that you are carrying out an exercise to transfer money and that you don't withdraw it instead because once your cash has been taken out of the ISA it is in, you have no opportunity to reinvest in another ISA and any future interest may be taxed. Have a look at a comparison site like www.moneysupermarket.com to see if the rates that you are currently getting are as good as they should be.