MSPs call for more head teacher autonomy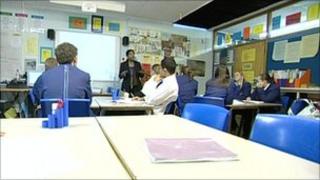 MSPs have said head teachers should be given more freedom to boost the quality of teaching and leadership in schools.
The education committee report emanated from inquiries into education funding and the structure of state schools.
It rejected radical suggestions like the introduction of more fee-paying schools, Swedish free schools and the English academy programme.
It said head teachers should be given more scope to provide an "appropriate level of challenge for staff".
The committee said continuous improvement in teaching and leadership quality was central to raising attainment and achievement in Scottish schools.
It said there was no room for complacency and welcomed a further inquiry into the issues.
Committee convener Karen Whitefield MSP said: "These short inquiries were an opportunity for us to ask fundamental questions about what kind of education and children's services Scotland wants and needs and how they should be structured and funded.
"Our evidence demonstrated there is little appetite in Scotland for any of the more radical alternatives such as those currently available in England, Swedish free schools or the US charter schools.
"However, we also heard that real improvements could be made by concentrating on maximising the quality of teaching and of leadership in schools. We hope that our successor committee will pursue this with the next Parliament."
The report argued that the interests of children should be the main factor in considering any proposals for structural change.
The committee also called for a wider debate in the next session of the Parliament about the role of local authorities in education and children's services.