Tory leader Annabel Goldie backs Scots tax cut idea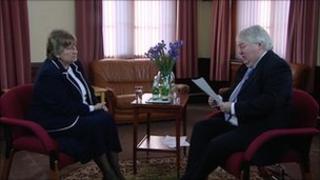 Scottish Conservative leader Annabel Goldie has supported tax cuts in Scotland to boost the economy.
Despite tough public spending cuts, Miss Goldie said new financial powers for Holyrood could be used to relieve the burden on families and businesses.
Her comments came in a BBC Scotland interview as the Tories kicked off their spring conference in Perth.
But Miss Goldie said she would only support tax cuts if they were not "irresponsible".
Under the Scotland Bill, currently going through Westminster, the UK Treasury would deduct 10p from standard and upper rates of income tax in Scotland and give MSPs the power to decide how to raise cash.
The move, which may not come in until after the Scottish Parliament elections in 2015, would also see a corresponding cut in the block grant Scotland gets from the Treasury.
UK government spending cuts will see the Scottish budget cut by about £1bn next year.
Miss Goldie, who argued her party had already convinced the SNP minority government to freeze council tax for four years and cut rates for small businesses, said: "My instinct is to try to keep taxes as low as we can."
Asked if she would support a cut under the increased tax powers, the Scottish Tory leader said: "I certainly would as an objective, because I think we know from past experience that, if you're able to do that and if doing that is not irresponsible with the obligations of the Scottish Parliament to fund many of our public services, then yes I would like that as an objective."
Miss Goldie added: "We know from experience that stimulates the economy, that helps businesses to grow and to start up - that creates jobs."
The Scottish Parliament was given the power to vary income tax by 3p in the pound when it was set up in 1999, although the so-called Tartan tax has never been used.