Scottish Tory leader Annabel Goldie in pensioner pledge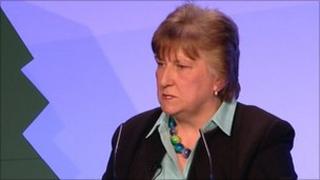 Scottish Tory leader Annabel Goldie has pledged to back tax cuts and stand up for pensioners, as her party prepares to fight the Holyrood election.
The Tories face a tough time at the polls in May, in the wake of the UK government's decision to embark on a programme of tough spending cuts.
But Miss Goldie told her party conference that Tories make honest decisions, even if they are unpopular.
She said her political opponents were willing to say anything to win votes.
Miss Goldie strongly attacked Labour leader Iain Gray for indulging in "shabby" and "shameful" politics, while SNP leader and first minister Alex Salmond had "airbrushed" his failures from view.
The Scottish Tory leader's keynote address to members of the party faithful in Perth came after last year's UK election, which saw just one Scottish MP returned to Westminster.
The Tory/Lib Dem coalition has come under fire for cutting public spending - which will have a £1bn knock-on for the Scottish budget - but the Scots Conservatives say vital action was being taken to reduce the country's spending deficit.
Miss Goldie said her party had succeeded in having Tory policies implemented by the SNP minority government, including boosting police officer numbers, cutting business rates and bringing in a new, national drugs policy.
With the Scotland Bill due to hand increased financial powers to Holyrood, she told the conference her party would support low taxes, and pledged to deliver a £200 council tax cut for every pensioner household, every year.
"This is a flagship policy of our campaign, said Miss Goldie, adding: "When you've given so much of your life to Scotland, the Scottish Conservatives will give you something back."
Miss Goldie vowed to publish an election manifesto which would support families, communities and the environment while promising to "tell it like it is".
Outlining the party's opposition to universally free prescription charges, while supporting a student graduate charge, Miss Goldie, said: "It means we will weigh up the options, decide the priorities and stick to our guns - but we will not duck and dive like the snake oil salesmen of the other parties."
Addressing claims the Holyrood election will be a two-horse race between Labour and the SNP, "the former racing tipster Salmond against the Gray", Miss Goldie told the conference: "There is an old nag in the field who's been round the course and who's got form when it comes to taking on the boys.
"Someone who decides what they can and cannot do, somebody who holds the balance of power in this parliament and who will act without fear or favour.
"That old nag is me."
Miss Goldie swivelled her sights to Mr Gray, whose party recently backed the council tax freeze after earlier suggesting it would support capped rises in the charge.
"This is the master of the cartwheel, the political gymnast extraordinare," she said.
"The man who will do anything, say anything, promise anything just to get the keys to Bute House.
"Labour stands accused of naked, brazen opportunism - two-faced, double dealing, dishonest politicking - it is shoddy and it is shameful."
And accusing the SNP government of dumping manifesto pledges like writing off student debt, Miss Goldie asked: "And what about Alex Salmond?
"Alex the brave, Soundbite Salmond, everything for for free - has he been telling it straight?"
She went on: "Remember what the brave Alex promised? Dump the debt, axe the tax - slogan after slogan turned out just to be pre-election rhetoric, then confined to the dustbin of government.
"Not such a smart Alex after all."
Turning to the election fight ahead, Miss Goldie said the Scottish Conservatives, who have 16 MSPs out of 129, could "call the shots" in a parliament of minorities at Holyrood.
Rallying party supporters, she told them: "This election is not about the fortunes of Salmond or Gray. It's about the future of Scotland. So if you like what we've delivered, let us do more."
She said: "Tell them that Annabel Goldie is counting on them, and that they can count on me. Every voter, in every region, in every part of Scotland can vote for common sense - and that is what we shall give them.
"Because the Scottish Conservatives are the voice of common sense in Scotland.
"So let's get to it. Let's get onto these doorsteps and together we shall deliver for Scotland."