Labour leader Ed Miliband eyes Scottish election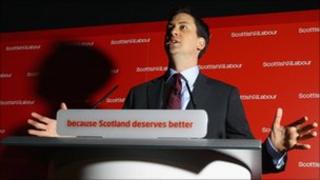 May's Scottish Parliament election provides the best chance of cutting the UK government's five-year term short, Labour leader Ed Miliband has said.
He said the Tories feared a Labour Scottish government would provide the platform for a "real alternative" across the whole country.
Mr Miliband's comments came as Scottish Labour held its conference in Glasgow.
He portrayed Scottish Labour leader Iain Gray as the man to lead the country forward.
Hitting out at the Tory-Lib Dem coalition, Mr Miliband told the conference: "I have never wanted this to be a five-year government because of the damage it will do.
"And when people ask me, 'what are you going to do to reverse things in 2015', I say 'we can't wait until then'.
"So let's use these elections to give us the best chance of stopping it going to the full term."