New telephone flood warning system launched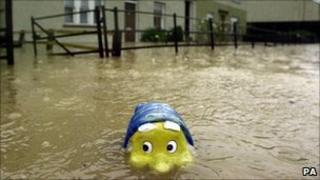 A new free telephone warning system will let people in Scotland know when their area is at risk from flooding.
The Floodline direct telephone service will send targeted flood warning messages to any registered mobile phone or landline.
The Scottish Environmental Protection Agency (Sepa) has increased the number of local flood warning areas from 78 to 220, each with unique flood forecasts.
According to Sepa, 100,000 properties in Scotland are at risk of flooding.
Environment minister Roseanna Cunningham said the measures would give people "more time to prepare and protect themselves" from flooding across the nation.
The tailored service is an update on Sepa's 24-hour recorded service - which can still be accessed.
Anyone can register for the service by going to the Floodline Scotland website, or ringing 0845 988 1188.