Glasgow concert to raise money for Japan survivors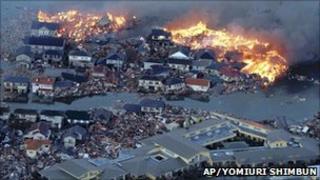 Top musicians in Scotland will perform in a concert at Glasgow University Chapel to raise money for victims of the Japanese earthquake and tsunami.
The performance is to be broadcast live on the university chapel's webcam at 1500 BST on Sunday 27 March.
It will include a mixture of classical choral and orchestral music from Scotland and Japan.
Glasgow students Ayako Kanazawa and Graham Riach managed to organise the concert in just one week.
Singers and instrumentalists from Scottish Opera, the Glasgow University Choir and the Royal Scottish Academy of Music and Drama (RSAMD) will all play at the event.
Ms Kanazawa, a Japan-born Repetiteur Fellowship trainee with Scottish Opera and the RSAMD, said: "I am a survivor of the devastating Hanshin Earthquake in 1995. Not only was the rescue operation difficult but also the reconstruction.
"It is a frustrating time for all Japanese in the UK, all we can do is pray. But with this concert I believe that our performance will have power to help suffering people in my beautiful country."
All proceeds from the concert will be directed to the Japanese Red Cross.