EIS teachers' union reaches deal on conditions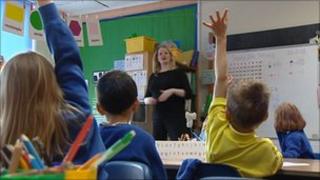 The threat of a national strike in schools around the time of May's Scottish elections has been averted.
After months of negotiations, local authorities' body Cosla has watered down its proposals for changes to teachers' pay and conditions.
The move follows a poll of teachers which indicated strong support for industrial action.
Leaders of the largest teaching union, the EIS, are now recommending acceptance of the revised package.
The union described the new deal, which cut costs by £45m instead of £60m, as the best possible in the current economic climate.
Initial talks between the union and Cosla came to an end last month.
The planned changes included a two-year pay freeze but it was other proposals which caused the talks to break down.
Greater certainty
The union objected to a cut in sick pay, changes to the supply teachers' conditions and lower pay for those who stayed on promoted salaries when their posts were abolished 10 years ago.
The EIS was also looking for guarantees on teaching numbers.
EIS general secretary Ronnie Smith said: "Under the revised offer, teachers will retain the right to a maximum of six months sick pay at 100% of their normal salary, followed by six months at 50% of their normal salary."
He added: "Short-term supply teachers will now be paid at point 1 of the pay scale for only the first five days of any deployment rather than the first eight days as had been previously proposed.
"This will significantly lessen the financial impact of the proposed changes for many supply teachers.
"The proposals also provide greater certainty on whether councils' jobs promises will be met, the penalties for any failure and provide for further discussions on teacher employment."
The union leader said the first offer had been rejected by 98% of EIS members who had voted.
More than 95% of members of the Scottish Secondary Teachers' Association who voted also rejected the package in an indicative ballot.
Mr Smith said: "The decision to recommend acceptance of the revised offer is based on the firm belief that this new offer is the best that can be delivered in the current economic climate."
Education Secretary Michael Russell welcomed the agreement.
He said: "The new deal - backed by £15m of funding from the SNP government - offers real protections, including enough posts for every newly-qualified teacher, enough posts for every probationary teacher and enough posts to further reduce teacher unemployment.
"It also delivers the savings - including pay restraint - councils need to balance their books and ensures that there is a clear mechanism to hold councils to the commitments they have made on teacher numbers.
"Negotiators from both sides have agreed to take these proposals back to their membership and I am hopeful that this deal will now be ratified."