Scottish university staff in second strike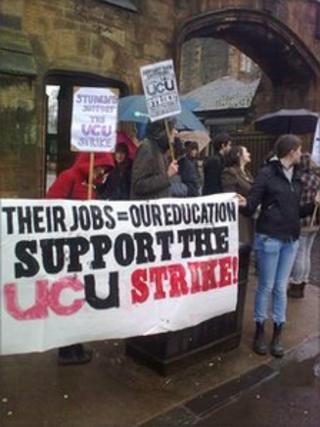 Universities across Scotland are being hit by a second wave of strikes.
Staff at 15 universities are joining a UK-wide walkout in a dispute with employers over proposed changes to pensions as well as pay cuts and lack of agreement on job security.
The universities are trying to make savings because of demographic changes and cuts in public spending.
Similar action was taken by the University and College Union (UCU) in Scotland last week.
Rallies are being held in Aberdeen, Glasgow and Stirling.
The union has received the support of the National Union of Students, despite the likely disruption to their members' studies.
UCU general secretary Sally Hunt said: "Strike action is always a last resort but the attacks on pay and jobs have created real anger and, instead of burying their heads in the sand, the employers need to respond urgently to our concerns.
"University staff really value their pension rights and those in the USS [Universities Superannuation Scheme] scheme in Scotland have made their views of the detrimental changes crystal clear.
"Staff are sick to the back teeth of being told that their pay and pensions need to be cut to pay for an economic crisis created by others."
Chairman of the Universities and Colleges Employers Association Professor Keith Burnett said: "Employers are extremely disappointed by UCU's decision to take industrial action.
"We look to UCU to work with higher education institutions during this period of change and challenge for all - not against them.
"There is much uncertainty in HE at present and this course of action will have the potential to cause further difficulties for students and institutions."
In Dumfries and Galloway, courses at the University of Glasgow's Crichton Campus in Dumfries were also set to be disrupted.
About 20 lecturing staff took part in the first stoppage last week.
Staff at Stirling University are also to be balloted for industrial action over plans endorsed by the university's governing body to make savings by axing 17 jobs in the institute of aquaculture.