Scotland's capercaillie population 'critically low'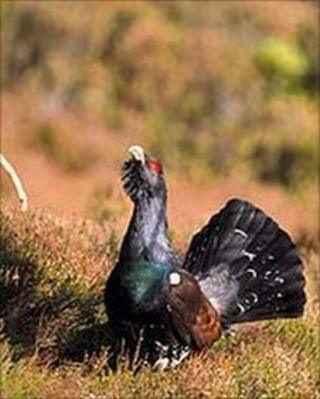 Scotland's capercaillie population has become "critically low", according to Scottish Natural Heritage (SNH).
A study found the rare bird's decline related to changes in weather conditions and increasing numbers of predators such as the pine marten.
Perthshire, Argyll and Moray recorded the highest declines in capercaillie population in the past two decades.
Capercaillie are now largely confined to just 11 sq miles (28.5 sq km) of woodland in Strathspey.
The capercaillie is on the red list of Birds of Conservation Concern.
The pine marten is also a priority species and fully protected under the Wildlife & Countryside Act 1981.
There are estimated to be around 3,500 pine marten in Scotland, mainly in the Highlands.
The research points to the predatory marten as a possible culprit in the capercaillie's further decline.
It was carried out under a partnership which included Scottish Natural Heritage (SNH), the Game and Wildlife Conservation Trust, the Forestry Commission and the RSPB.
Virtually extinct
The Game and Wildlife Conservation Trust found capercaillie breeding success had declined between 1991 and 2009.
And in January, SNH estimated that the birds had become virtually extinct in most parts of the country and were now largely confined to woodland in Strathspey.
The organisation estimated that there were only some 2,000 individual capercaillie left in Scotland, although some experts placed the figure as low as 500.
Previous studies have linked the fortunes of capercaillie with the deaths of full-grown birds following collisions with deer fences and high numbers of foxes and carrion crows, which can prey on eggs and chicks.
The new research has repeated a 1995 survey of predators in key capercaillie forests and investigated how changes in predator evidence and weather might be related to breeding success over the 18 years.
'Timely' findings
Rob Raynor, from SNH, said: "The work carried out so far points to an increase in pine marten evidence in woodlands occupied by capercaillie, but it is far from certain to what extent this might be a contributory factor in capercaillie productivity.
"More work is required to establish which, if any, of these factors actually influence capercaillie numbers."
The Game and Wildlife Conservation Trust's Dr Dave Baine said: "This recent survey and work elsewhere in Scotland suggest weather and predators may combine to lower breeding success."
Dr Baine added: "These findings are timely as the Scottish capercaillie population is now becoming critically low and its range is contracting.
"New conservation measures, alongside existing habitat works and continued efforts to minimise deaths on fences, are urgently required to help prevent a second extinction."
The Scottish capercaillie population became extinct around 1785 and was reintroduced from Swedish stock in 1837.