Earth Hour: Lights go off at Scottish landmarks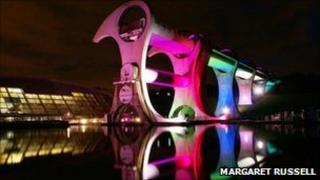 More than 100 Scottish landmarks and iconic structures were plunged into darkness as part of a global climate change campaign.
Edinburgh Castle, the Scottish Parliament building and the Falkirk Wheel, usually lit up at night, were among the landmarks marking Earth Hour.
About 130 countries around the world were taking part in the hour-long WWF event on Saturday evening.
Last year 13 million people took part in the UK.
Thousands of people across Scotland supported the initiative by organising local events in the dark or by candlelight.
Lights were also switched off at Scone Palace; the National Wallace Monument; Lloyds Bank on Edinburgh's Mound; Edinburgh's Camera Obscura; Arbroath Abbey; Castle Campbell, near Dollar; Glasgow's Kelvingrove Museum; Urquhart Castle, Loch Ness; Eilean Donan Castle, Dornie; Inverness Castle and the Scott Monument in Edinburgh.
'Record support'
According to WWF, Scotland has become the first country in the world to secure support from 100% of its cities and local authorities.
Dr Richard Dixon, director of WWF Scotland, said: "Scotland is really pulling out all the stops to celebrate Earth Hour this year.
"With record support from cities, local authorities, iconic landmarks, schools and other organisations people will be left in no doubt that Scotland cares about tackling climate change."
He added: "WWF's Earth Hour has a unique ability to unite and empower people around the world.
"It gives everyone the chance to have some fun, to organise their own events, and at the same time be part of an incredibly powerful global message to world leaders of the concern we all share about climate change."
Last year 4,000 cities and a record 1,000 landmarks worldwide went dark for the hour including the Eiffel Tower in Paris; Christ the Redeemer in Rio de Janeiro; the Empire State Building in New York; the Coliseum in Rome; the Golden Gate Bridge in San Francisco; the Sydney Opera and the Las Vegas Strip.