Doctors' group warns over 'inadequate' training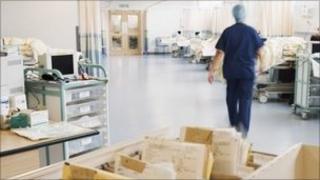 Scotland could create a generation of inadequately trained consultants, doctors' leaders have warned.
The Royal College of Physicians of Edinburgh said many trainees were plugging gaps in hospital rotas and training was suffering as a result.
It said a shortage of consultants or trainees in some hospitals, especially out of hours, led to safety problems, like near misses with prescriptions.
The college called on political parties to guarantee supervised training time.
It said many consultants did not have time to properly supervise trainees or had to do it outwith their working hours.
The report claimed there was anecdotal evidence that some trainees felt they had to falsify rotas to comply with European working time regulations.
The Royal College said any incoming Scottish government must act urgently to ensure safety was not compromised.
'Feeling disillusioned'
Its president, Dr Neil Dewhurst, said: "We have now reached a tipping point, where this evidence can no longer be ignored or considered in isolation.
"We urge politicians from all parties to recognise the gravity of this situation and to commit to the recommended actions."
Dr Kerri Baker, chair of the college's trainees and members committee, added: "Trainee doctors report feeling disillusioned and let down by their training experience gained with the NHS."
And Dr John Colvin, chair of the Academy of Medical Royal Colleges and Faculties in Scotland said: "We share the belief that the balance between service provision and training has been eroded and that protected time for training and integrated clinical experience is essential to produce fully-trained doctors.
"More effective workforce planning requires to be undertaken to ensure a stable high-quality medical service for the future."