Scottish election: Voting campaign taken to care homes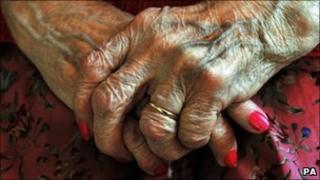 A campaign is under way to ensure Scotland's 38,000 adult care home residents do not miss out on the chance to vote in the Holyrood election.
The Electoral Commission, care and human rights watchdogs have teamed up to spread the message to more than 1,300 homes, ahead of voting on 5 May.
Information leaflets will help residents register to vote, before the 15 April deadline.
Care home staff have also been asked to play a role in spreading the message.
The campaign, spearheaded by the Care Commission, Electoral Commission and Scottish Human Rights Commission, will also help residents apply for postal or proxy votes, if they are unable to get to a polling station.
The bodies are also providing help with voting in the AV referendum.
Scottish electoral commissioner, John McCormick, said: "It [5 May] is a big day for Scottish democracy, and we want to make sure that people living in care homes are able to take part.
"It's vital that taking part in the election and the referendum should be easy and accessible for all, no matter where you live."
Marcia Ramsay, of the Care Commission, said upholding the civil rights of people moving into care homes were a must, adding: "It is vital care service providers and staff understand that they have a role in supporting and enabling people to take part in voting in elections if they wish to."
The deadline for applying for a postal vote in the Holyrood election is 14 April, while the cut-off date for getting a proxy vote has been set at 21 April.
Electoral register
Scottish Human Rights Commission chairman, Prof Alan Miller, said: "Participating in the Scottish parliamentary elections and referendum is important to thousands of older people, and it is right that people are supported in using their right to vote if they wish to do so."
People are entitled to vote in the Scottish Parliament election and AV referendum if they are on the electoral register, aged 18 or over on 5 May and are a British, qualifying Commonwealth or Irish citizen.
Citizens of other European Union countries registered in Scotland can vote in the Scottish Parliament election, but not the AV referendum.
The Electoral Commission is also sending out more than 27 million information booklets on the referendum and elections - one to every UK household - and are available in braille, British sign language and large print.