Sightings of garden birds rise despite cold winter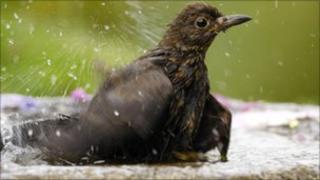 Small garden birds appear to have "bounced back" from a harsh winter, according to an RSPB poll.
The annual Big Garden Birdwatch found sightings of long-tailed tits were up by 50% while the number of treecreepers rose by 150%.
The chaffinch remained the most frequently spotted bird, but wren records fell by almost a fifth.
Keith Morton, of RSPB Scotland, said the increase in sightings of smaller birds was "encouraging".
Unusual birds
He said: "We were especially interested to see how our garden birds would have fared over the harsh winter.
"It is too early to know for sure - we'll need to wait for further surveys later in the year.
"But it is encouraging to see an increase in sightings in many garden species, particularly the smaller birds."
RSPB Scotland said a "record-breaking" 45,000 people took part in the survey, which was carried out at the end of January.
The second and third most commonly-sighted birds were the house sparrow and starling.
After two successive cold winters, it was feared some garden visitors could have suffered declines.
But many species were spotted more frequently than last year, with sightings of goldfinch up by 60% and blue tits by 27%.
However blackbirds fared less well with a decline of 12%, while robin numbers were down by about 9%.
Some birds more commonly found in woodlands and farmlands, such as brambling and lesser redpoll, were sighted in gardens.
It is believed the severe weather conditions prompted them to search further afield for food.
Mr Morton added: "This year we're delighted that many people will have been rewarded with experiences of beautiful and unusual birds, such as the waxwing, a bold, berry-eating bird that, after enjoying a bumper year, was spotted in gardens across Scotland.
"Our advice is to keep feeding garden birds, particularly during the cold."