Fukushima: Scottish sites detect radioactive iodine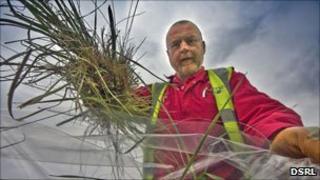 More locations around Scotland have recorded very low levels of radioactive iodine believed to be from Fukushima nuclear plant in Japan.
The chemical was detected in air samples in Lerwick in Shetland and in grass samples near Dounreay in Caithness.
The Scottish Environment Protection Agency (Sepa) said it also appeared to have been detected in East Kilbride.
Sepa said the levels detected did not pose any threat to health.
The Fukushima nuclear plant was crippled after being hit by a tsunami in the aftermath of a huge earthquake on 11 March.
Radiation leaks were recorded following subsequent explosions and fires.
On Tuesday, Sepa said it had been informed that an air sampler in Glasgow, almost 6,000 miles from Japan, had recorded the presence of radioactive iodine.
The environment agency said the level of iodine detected in Glasgow and now in Lerwick was extremely low and was consistent with reports from other European countries such as Iceland and Switzerland.
Public assurance
Dr Paul Dale, a radioactive substances specialist at Sepa, said: "The fact that such low concentrations of this radionuclide were detected demonstrates how effective the UK and Scottish surveillance programme for radioactive substances is, and supports the judgment that these observations are the result of a release or releases from the Japanese reactors.
"Sepa has an ongoing comprehensive monitoring programme for radioactivity in Scotland and has increased the level of scrutiny to provide ongoing public assurance during this period.
"Sepa will provide any further information on the detection of radioactive iodine in the environment as it becomes available."
The organisation said the concentration of the substance found at East Kilbride was yet to be determined.
However it said there is no reason to believe its potential health implications would be any different from those associated with the iodine-131 detected elsewhere in the UK.
Very low levels of iodine-131 were found during initial analysis of routine grass samples collected around former nuclear power plant Dounreay.
Sepa said it was confident the chemical was not from the site itself because it had been detected at the same time as samples across Europe.
It said current site operations were highly unlikely to have released iodine-131 in the concentrations detected.
The chemical's presence was picked up during routine environmental monitoring by Dounreay Site Restoration Limited, which is decommissioning the site.
The Food Standards Agency has been informed about the discovery.