'Fukushima radiation' detected in Scotland's rain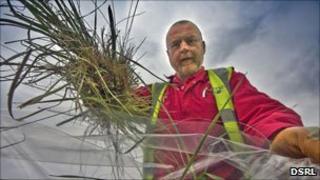 Very low levels of radioactive iodine believed to be from Japan's Fukushima nuclear plant have been recorded in rain that has fallen over Glasgow.
Previously, iodine-131 was detected during air monitoring in the city and in grass samples taken around the Dounreay nuclear site in Caithness.
The Scottish Environment Protection Agency (Sepa) has informed the Food Standards Agency (FSA).
The FSA said the levels posed no risk to the food chain.
Sepa said: "Rainfall over Scotland over the past days has now been analysed and has shown the presence of very low concentrations of iodine-131.
"Initial analysis of routine grass samples collected in the north of Scotland has revealed very low levels of iodine-131.
"Further analysis is being undertaken and the final results are expected early next week."
The agency said that the activity of iodine-131 falls by half after eight days and dropped to 25% after 16 days.
Dounreay Site Restoration Limited (DSRL) monitors air, sea life and grass samples as routine to check for any potential pollutants from the plant.
Iodine-131 has been traced elsewhere in Europe, including Iceland and France.