Telephone and internet firms 'ripping off public'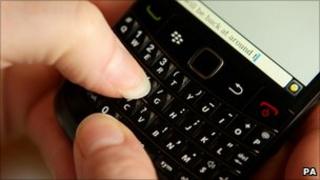 Growing numbers of Scots are being "ripped-off in their own homes" by telephone and internet providers, according to Citizens Advice Scotland.
It said it handled 8,000 complaints from the public last year relating to over-charging and mis-selling.
Its report claimed the pace of change and industry practices had left many people "vulnerable to exploitation".
But Citizens Advice Scotland said it was an issue of transparency rather than law-breaking.
On mobile phones, its report said there was a growing number of cases where terms and conditions were "unclear and confusing", leading customers to enter into contracts which forced them to pay more than they expected, and for longer.
Advisers also reported a "significant" increase in complaints about incorrect billing for landlines, and the transfer of contracts from one supplier to another without the client's consent and often directly against their instructions.
The report also identified issues with the internet, with many customers signing up for a basic package before being connected to expensive additional services they had not asked for and did not use. High prices and poor services were also leading to concerns.
CAS chief executive Lucy McTernan said: "The issue here is transparency. In most of the cases we see, no law has actually been broken.
"What is happening is that the providers are exploiting the fact that most customers don't know much about the way these services work, so they are hoodwinking them by making the contracts as bewildering as possible."
Ms McTernan said the terms and conditions of contracts often seemed deliberately designed to confuse and mislead and to conceal additional costs.
She continued: "So we are calling today for the industry to get its house in order.
"Terms and conditions should be made transparent at the point of sale.
"The regulations that exist at the moment are too vague, and should be toughened up and made more specific, with penalties keenly enforced where necessary to punish those providers who seek to take advantage of people unfairly."