Scottish soldiers deploy to Afghanistan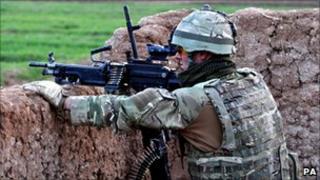 Hundreds of Scots soldiers have begun deploying to Afghanistan.
About 500 troops from The Highlanders, 4th Battalion the Royal Regiment of Scotland (4 Scots) are travelling to the war-torn country to perform a ground-holding role.
The soldiers will spend six months in the Lashkar Gah region of Helmand province.
They are taking over the position currently held by 2 Scots, The Royal Highland Fusiliers.
The Highlanders will join other Scottish forces recently deployed in Afghanistan, including marines from Arbroath's 45 Commando and troops from the Royal Scots Dragoon Guards.
In December, the Ministry of Defence announced that about 1,500 Scots-based service personnel were to be sent to Afghanistan this year.
During the final stages of deployment, 4 Scots left their German base in Fallingbostel before being piped on to a RAF plane at Hanover Airport to regimental music.
More soldiers will fly out over the next few days to be in place for the handover of operations to 3 Commando Brigade.
The 6,500-strong brigade will take over the mission in Afghanistan from 16 Air Assault Brigade in mid-April.
Mentoring role
The deployment will be the Highlanders' first time as a complete battalion in Afghanistan in what will be their first operational tour of duty since spending six months in Iraq in 2008.
Their role will be to mentor the country's security services, protect local communities and man checkpoints.
Capt Freddie Macnair, 4 Scots planning officer, said: "We're lucky because we are carrying on from the good work of the 2 Scots and the Scots Guards before that.
"We are very well prepared and I think if you spoke to any soldier he would be quite confident in what his job is."