Health and safety inquiry launches in Aberdeen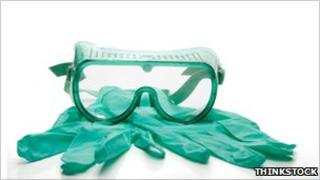 An inquiry into health and safety in Scotland has been launched in Aberdeen.
It comes after a National Audit Office report confirmed the cost of workplace accidents north of the border was about £187m last year.
The rate of fatalities and serious injuries was also higher than in England and Wales.
Details of the review were announced by the House of Commons Scottish Affairs Committee.
The National Audit Office has suggested the higher rate of deaths and serious injuries in Scotland could be because a greater proportion of the country's workers are employed in high-risk industries such as agriculture.
The inquiry by MPs will also explore whether the Health and Safety Executive (HSE) is doing all it can to help drive the figures down.
Scottish Affairs Committee chairman Ian Davidson said: "This is the launch of what we hope will be a very thorough investigation of the hazards faced by workers in Scotland.
"Every death or serious injury is a human tragedy and we want to work with both sides of industry and the HSE to see what could be done to reduce this toll."
The committee also wants to assess the potential impact of a 35% budget cut facing the HSE.
Earlier this month, the BBC learned the organisation was proposing to reduce unannounced workplace inspections by a third.
A leaked letter from the HSE outlined plans to withdraw inspections from entire sectors of industry, including some where "significant risk" remained.
However, the HSE said at the time no final decision had been made.