'Handful' of compulsory redundancies made by councils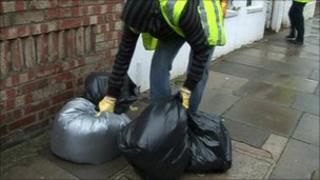 Some councils in Scotland have had to make staff compulsorily redundant as they persevere to balance their budgets, BBC Scotland has learned.
Only a handful of staff have been forced from their jobs, but the figures show it is hard for local authorities to avoid this action completely.
Scottish councils are planning to cut at least 13,500 jobs over the next few years.
Cosla has warned it is not possible to rule out compulsory redundancies.
North Ayrshire Council and East Ayrshire Council each said they had made two compulsory redundancies.
Moray Council said that while it had yet to finalise its figures on compulsory redundancies, the number would be a "low single-figure one".
However most other councils, including Glasgow which is aiming to cut 2,800 jobs over the next few years, have not had to make compulsory job cuts.
Several councils placed staff under notice earlier this year that their post was at risk of redundancy.
The fact the number of compulsory redundancies is relatively small suggests they have had considerable success redeploying threatened workers or persuading them to leave voluntarily.
National agreements
Councils say they hope to cut jobs as far as possible through early retirements, voluntary redundancies and closing posts which become vacant as people move on naturally.
Last month they reacted angrily to reports a deal was close which would guarantee no redundancies anywhere in the public sector in Scotland.
Only one council has so far given a cast-iron commitment to avoid compulsory redundancies completely in years to come, but that is in exchange for tight restraints on pay, which go beyond national agreements.
Scottish Borders Council reached a deal with unions which would mean a pay freeze for staff earning more than £21,000, although the lowest paid workers would be guaranteed at least £7.15 an hour.
While the number of council staff to have been made compulsorily redundant is very small, the figures do not include people working for projects which lost council funding or people working for organisations which provided services to councils under contract.
Councillor Michael Cook, human resources spokesman for council group Cosla, said councils would do everything they "reasonably can" to manage reductions in the workforce.
But he added it was "not possible" to give a guarantee with respect to no compulsory redundancies.
'Realistic dialogue'
He said: "Cosla has consistently said that the savings needed to balance budgets will not come from recruitment freezes and voluntary severance alone.
"Councils require the flexibility to introduce different ways of working which can better enable them to meet increasing demand for services at a time of significantly reduced resources.
"Councils are committed to all appropriate courses of action open to them that minimise the need for compulsory redundancies, but remain absolutely clear that these cannot be ruled out altogether."
Mr Cook said a dialogue had been established with trade unions in recent months over the "shared challenges" facing the local government workforce.
He added that the work of Scottish Borders Council had been a good example of what could be achieved and "flexibility" would be key.
"The period ahead will require savings to be made to the overall council pay bill if councils are to balance budgets," he said.
"This can be most effectively done through a realistic dialogue with trade unions."