Skin cancer rates triple among young Scots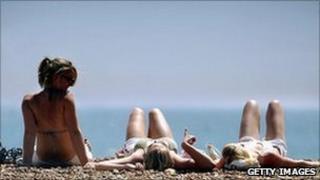 The number of young Scots succumbing to the deadliest form of skin cancer has more than tripled since the 1970s, new figures have shown.
Cancer Research UK said that in the UK as a whole, more than two people under the age of 35 were diagnosed with malignant melanoma every day.
However, in Scotland rates of the cancer were significantly higher than the UK average.
More than two 15-34 year old Scots are diagnosed with skin cancer each week.
In the past 30 years, rates of the disease north of the border rose from 2.2 cases per 100,000 to 8.2, equating to a 266% increase.
The charity said that in Scotland, about 1,090 people of all ages were diagnosed with malignant melanoma every year.
The new data is published as Cancer Research UK launched its SunSmart campaign for 2011.
Primary school assistant Kellie Boyle was diagnosed with the cancer in 2007.
The 26-year-old from Arbroath had been irritated by a small red blemish on her neck.
She said: "I really had no worries about it at all.
"It was more like a little skin tag and the dermatologist didn't think it was anything to worry about. I had it removed and, as far as I was concerned that was the end of that."
A sample of the blemish was sent to Ninewells Hospital in Dundee for testing where it was found to be cancerous.
Ms Boyle said: "I honestly couldn't believe it when I was told I had cancer.
"I was only 23 and suddenly thought I had been given a death sentence. I was in complete shock. I've never been particularly into sunbathing, and don't use sunbeds, so to be told I had malignant melanoma was completely shocking."
Ms Boyle was admitted to Ninewells for surgery and had a radical neck dissection and lymph nodes removed and is now cancer free.
Caroline Cerny, Cancer Research UK's SunSmart campaign manager, said: "It's very worrying to see that the number of young adults being diagnosed with this potentially fatal disease has risen so dramatically, especially since cancer is typically a disease that affects older people.
"With summer approaching after such a harsh winter, everyone is looking forward to enjoying some sunshine. But it's more important than ever to be aware of the dangers of getting sunburnt."
Ms Cerny said young women in particular were prone to the condition as they were more than twice as likely to be diagnosed with melanoma than young men.
The dramatic rise in skin cancer is directly related to people's tanning behaviour, a trend which began in the 1970s with the dawn of cheap package holidays.