Scots plan Reel Festivals 2011 as Middle East exchange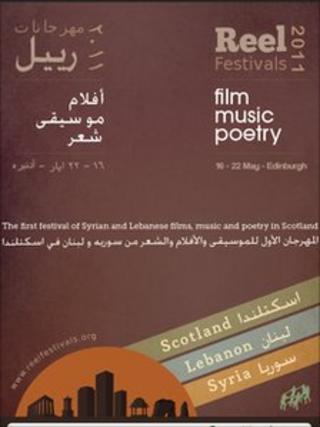 Classic films such as Gregory's Girl and The Wicker Man are to be screened in Syria and Lebanon in a trilateral exchange of music, poetry and film.
Reel Festivals 2011 is being run by a charity which aims to "shine a little light" on the positive aspects of the Middle East.
A series of events will be held in Scotland, Damascus and Beirut in May.
The festivals programme will see Scots musicians and writers visit the Middle East as part of a cultural exchange.
Reel Festivals 2011 is being organised by Firefly International, a Scottish charity which has held similar events with Iraq and Afghanistan.
Edinburgh and Glasgow will host an eclectic range of film screenings, concerts and poetry events from the Middle East, including Syrian documentary Shout and Zeina Daccache's 2009 film, 12 Angry Lebanese.
The capital will also play host to a photography exhibition portraying the lives of young people living in cities throughout Syria.
Beirut and Damascus film highlights include screenings of Scottish classics Gregory's Girl, Hallam Foe and The Wicker Man, and Scottish Gaelic feature film Seach'd, directed by Christopher Young in 2007.
Progressive Celtic band Shooglenifty and Scottish musician Bill Drummond will also visit Syria and Lebanon, while there will be Arabic-English poetry collaborations from Emily Ballou, Ryan Van Winkle, Tom Pow and William Letson, Golan Haji and Rasha Omran, and Yehia Jaber and Mazen Maarouf.
A Reel Festivals spokeswoman said Syria especially had featured prominently in the news recently, but for all the wrong reasons.
She said: "We want people to see another Syria and Lebanon, brimming with creativity, humour and beauty - the human side of these countries, that those who are fortunate enough to travel there all experience.
"Right now, it's even more important for us to bring Syria to Scotland, and to give Syrian culture a voice on the international stage, as the uncertainty of the situation in Syria has led to the cancellation of some of our events there on advice from our regional colleagues and sponsors."
She added: "We are following this advice out of respect for the challenges the Syrian people are facing in the wake of recent amplified attempts to stifle their expressed wishes for greater freedom of expression, movement and of self-determination."