BMA Scotland warning over alcohol risks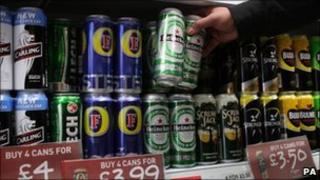 Doctors have warned that a "significant proportion" of adults are risking alcohol-related health problems.
A BMA Scotland survey suggested that on one day last month GPs saw more than 5,500 patients where alcohol had contributed to their ill health.
However, analysis of alcohol statistics by BBC Scotland suggests some alcohol-related problems may have peaked.
The BMA urged politicians to outline how they would tackle alcohol misuse in the next Scottish Parliament.
The study from the BMA claimed that alcohol was a factor in 6% of all GP consultations.
Dr Alan McDevitt, deputy chairman of the BMA's Scottish General Practitioners Committee, said: "Those who suffer from alcohol-related health problems are not just alcoholics or heavy binge drinkers.
"By regularly drinking over and above recommended limits, a significant proportion of the adult population is at risk of experiencing health problems that are linked to the alcohol they consume, whether it is high blood pressure, breast cancer or even domestic abuse."
Chronic or acute
However, statistics from the NHS suggest that the number of people admitted to hospital for alcohol-related reasons has gone down in recent years.
Alcohol-related hospital admissions peaked in 2007/8 when they reached 788 per 100,000 of the population.
The number went down to 763 in 2008/9, and the provisional figure for 2009/10 is 709 per 100,000 people.
Similarly alcohol-related deaths peaked in 2006 when deaths reached 1,546. But most recent figures for 2009 show alcohol-related deaths have gone down to 1,282.
Statistician Professor Sheila Bird, from the Medical Research Council's Biostatistics Unit, said: "Someone might see a doctor now because of the acute affects of alcohol, such as hangover or an injury sustained while drunk, but that could herald a future chronic illness caused by alcohol.
"Therefore the numbers of inpatients and deaths now could be a reflection of attitudes to alcohol in the 80s and 90s.
"Chronic illnesses can happen in future if acute alcohol problems aren't sorted out now."
Drink driving
The British Medical Association study was based on a sample of 31 of the 1,009 GP practises across Scotland.
They said that on one day an average 98 people would be admitted to hospital with an alcohol-related condition, while 23 people would commit a drink driving offence.
Other health organisations backed the BMA's call for action to tackle the country's alcohol problem.