Scottish election: Labour MPs review Holyrood defeat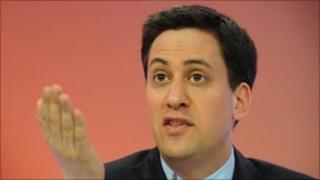 Labour leader Ed Miliband is to appoint three Scottish MPs to help review the party's poor showing at last week's Holyrood election, the BBC has learned.
Former Scottish secretary Jim Murphy, shadow Scottish Secretary Anne McKechin and Stirling MP Anne McGuire are expected to review the defeat.
Scottish Labour leader Iain Gray stood down in the wake of the SNP victory.
Former MSP Pauline McNeill said the review should be conducted by the party in Scotland.
Alex Salmond's SNP achieved an unprecedented overall majority in the Scottish Parliament, taking 69 of the 129 seats at Holyrood.
Labour went down from 46 seats to 37, losing some of its most senior figures.
Mr Gray said he would stand down from the post he has held since 2008 in the autumn, after instigating "root and branch reform" of his party.
Mr Miliband, who met members of Labour's Scottish executive on Monday night, is also expected to appoint MSPs and other members of the party to the review panel.
A Labour spokesman said a final decision on the make-up of the review panel had not yet been made.
Ms McNeill, who was defeated by the SNP in Glasgow Kelvin, said: "There is a perception, not always the reality, that Scottish Labour always looks to London and I think that Ed Miliband appointing three MPs really should be left to the Scottish Labour Party.
"If you want to remove that perception then you have to leave the space for the Scottish Labour Party to take that decision forward."