Earl of Wessex at Kirking of new Scottish Parliament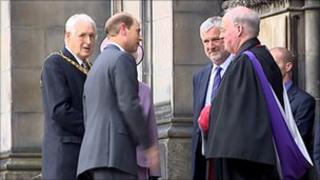 Scotland's new MSPs have gathered at St Giles' Cathedral in Edinburgh for the Royal Kirking of parliament.
The Earl of Wessex attended the special service, which dates back more than 300 years, ahead of the start of the fourth session at Holyrood on Wednesday.
The Very Reverend Gilleasbuig Macmillan led the event, which was also attended by other faith leaders.
The Archbishop of Glasgow, Mario Conti, used his speech to urge MSPs to unite against bigotry.
He said Scotland's reputation was under threat from a minority of people whose "attitudes and antics" were all too readily broadcast.
During the special church service, guests heard music from the National Jazz Youth Orchestra of Scotland and a reading by Alex Fergusson, the outgoing presiding officer of the Scottish Parliament.
Sohail Ashfaq, Imam of Edinburgh's Blackhall Mosque, and Ephraim Borowski, director of the Scottish Council of Jewish Communities, also addressed the congregation.
Prince Edward also met party leaders and was due to attend a reception at the city's Signet Library.