Scottish council tax freeze 'could cost £3bn'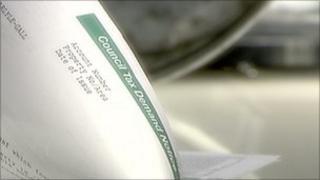 Freezing council tax will cost the Scottish government £3.15bn, according to a report published by Holyrood's research department.
The SNP's pledge not to raise the charge during the five-year parliamentary term was a key part of their election campaign.
The £3bn estimated figure was outlined in a publication from the Scottish Parliament Information Centre.
The SNP put the annual cost of the freeze at £560m.
Opposition parties claimed the report showed a black hole in the Nationalists' spending plans.
The details emerged on the day the Scottish Parliament sat for the first time since the SNP's landslide election win last week, which will lead to the formation for the first time of a majority Scottish government.
The SNP government has frozen council tax for the past four years, with Scottish Band D average council tax standing at £1,149.
If council tax was frozen over the lifetime of the next Scottish Parliament, the report said, the cumulative cost between 2008-09 and 2016-17 would be in excess of £3bn.
However, a spokesman for finance secretary John Swinney said the SNP had published a "fully costed" manifesto, taking into account an identified surplus of more than £1bn by the end of the spending period, after new spending commitments were taken into account.
"The reality is that the annual cost of the council tax freeze builds up to £560m at the end of this parliament - or less than 2% of the Scottish government budget.
"The council tax freeze is vital to help hard-pressed households when other bills and VAT are rising - and relative to income it helps the poorest families the most."