Scots staff take 1.5 billion steps in health challenge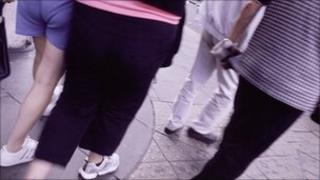 Staff at businesses throughout Scotland have walked more than 750,000 miles as part of a challenge to increase employees' physical activity levels.
The Walk at Work Step Count Challenge, run by Scottish charity Paths For All, involved more than 2,000 workers and 136 businesses.
The 12-week campaign ended on 10 May, the start of National Walk to Work Week.
Paths For All said firms benefited from a physically active workforce.
Businesses across Scotland were asked to put together teams of five people and each participant had to log the distance they walked each day, using a pedometer.
The participants amassed more than 1.5 billion steps over the course of the challenge.
Global Energy Group, which has offices in Inverness and Aberdeen, had four teams taking part.
Employee Emma Christie commented: "All of us have seen a huge improvement in not only our fitness levels, but also our wellbeing.
"Just getting out of the office - away from the computer and desk for 10 minutes at lunchtime - does make such a difference to the day."
Frances Bain, from Paths for All, said the step challenge had proved to many people that simple changes could make a real difference to personal health and well-being.
She said: "A physically active workforce has been proven to take less sick days, be more productive and have higher morale, with 27% fewer sick days being taken by an active workforce.
"We have already heard that those taking part in 2011 have felt the benefits, with some employees losing large amounts of weight, some leaving the car at home and walking to work and some making it the start of a lifestyle change for all the family.
"Most aim to continue walking more both at work and in their personal lives and we hope they will carry on with their new healthy lifestyles for years to come."