Scottish museums to open after hours for visitors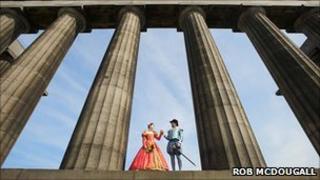 Museums and galleries across Scotland are to open overnight this weekend in a bid to increase access to the public.
The annual Museums at Night event will feature dozens of special exhibits, such as short film screenings and live nocturnal creature displays.
A new Scottish Festival of Museums will also see over 70 venues holding events over the weekend.
Organisers said the aim of the scheme was for people to have fun and explore the cultural venues more often.
Culture24, those behind the event, said last year's programme saw about 85,000 people visit museums all over the UK.
The organisation said that 47% of those had never been to that museum or gallery before.
Lorna Owers from Andrew Carnegie Birthplace Museum in Fife said: "I would encourage everyone to put 13 to 15 May in their diaries and visit as many of the events as possible.
"There is an amazing, diverse mix of events taking place right across the country and it's inspiring to see so many of Scotland's museums and galleries working together."
A full list of museums at night events can be found on the museums at night website and the festival of museums website.