NASUWT members vote for possible strike over pay deal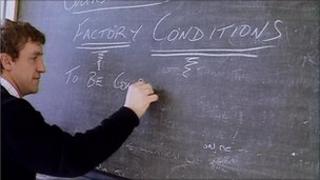 Members of the NASUWT teaching union have voted in favour of strike action over changes to pay and conditions.
The union, which has 7,000 members in Scotland, voted to reject the £45m package of cuts proposed by local authority body Cosla.
It includes a two-year pay freeze, cuts to maternity pay and much reduced pay for temporary or supply staff.
The NASUWT decision came the day after the SSTA union also backed possible strike action.
The Scottish Secondary Teachers' Association's conference passed a motion calling for members to consider industrial action.
SSTA president Peter Wright condemned the deal put forward by Cosla and the Scottish government, which has been accepted by Scotland's largest teaching union, the EIS.
At a meeting in Edinburgh on Saturday, Scottish members of the NASUWT unanimously passed an urgency motion committing the union to industrial action.
Chris Keates, NASUWT general secretary, said: "Teachers have been singled out and discriminated against in a deliberate, calculated and unwarranted manner simply to balance the books of the Scottish government and local authorities.
"The angry response from teachers across the country is entirely justified.
"This disgraceful situation is compounded by the fact that teachers are in this position because they have been sold down the river by a negotiating machinery constructed to silence the voices of thousands of teachers.
"Not only must the Cosla proposals be challenged but the time has come for a root-and-branch review of the negotiating machinery."
NASUWT members voted in favour of a rolling programme of industrial action, co-ordinated where possible with other unions.