Campaign to promote use of wood fuel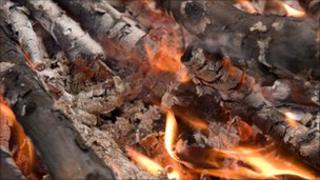 A campaign has been launched to persuade more Scottish homes and businesses to burn wood for heating.
It is being led by Usewoodfuel Scotland, an EU-funded partnership between Forestry Commission Scotland, the Scottish government, Scottish Enterprise and Forest Research.
The campaign aims to increase awareness of the benefits of wood fuel as a source of heat.
Usewoodfuel said it would stimulate demand for renewable timber resources.
The scheme will also promote the installation of wood fuel heating systems and encourage businesses with access to wood, and those who produce wood by-products, to get involved.
'Feel good factor'
Businesses and householders living in smoke control areas such as Edinburgh can seek advice on the use of wood fuel from Usewoodfuel's network of advisers across Scotland.
Wood fuel comes from a variety of sustainable sources such as existing forestry, new plantings or as a by-product of the timber industry, and takes the form of logs, woodchips, pellets or briquettes.
Its use has been boosted by the recent announcement of the UK government's Renewable Heat Incentive (RHI), an £860m financial support scheme for heat generated from renewable technology such as boilers.
Usewoodfuel said the Scottish economy benefited by more than £25m a year from producing and using wood fuel, saving an estimated annual 0.5m tonnes of carbon dioxide (CO2).
Rebecca Carr, renewables adviser for Forestry Commission Scotland, said: "Burning wood for heat benefits the environment and supports rural economies - it gives users and suppliers a true 'fuel good' factor, with more and more businesses and individuals recognising that switching to wood fuel can save operating costs.
"We have seen demand for wood fuel in Scotland increase by 300% over the past four years and it's still rising.
"Already, the commercial and industrial sectors are using around 450,000 oven-dried tonnes of wood fuel each year."
Forestry Commission Scotland and Forest Research's Biomass Energy Centre will be hosting the Usewoodfuel exhibition stand at the All-Energy 2011 Exhibition & Conference in Aberdeen on 18 and 19 May.