Scottish councils slash newspaper advertising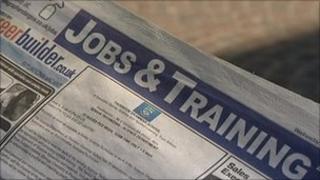 Scotland's councils have cut millions of pounds in recruitment advertising in the past three years, figures obtained by the BBC suggest.
Some councils practically abandoned newspaper job adverts after the launch of a dedicated website in 2008.
The money-saving move has added to the revenue decline facing some newspapers.
Last year newspapers saw off moves to allow councils to stop advertising road closures and applications for planning permission in the press.
Three years ago, a national website - myjobscotland.gov.uk - was launched which included council job vacancies from across Scotland.
Previously jobs open to external applicants were routinely advertised in either the local press or major titles such as The Herald, The Scotsman or the Press and Journal.
BBC Scotland made Freedom of Information requests to several Scottish councils asking for details of their recruitment advertising budget.
Dramatic cuts
Scotland's largest local authority - Glasgow City Council - spent £668,000 on recruitment adverts in 2007-8 but just £137,979 last year.
Of the money spent last year, about a third was spent on adverts in the Evening Times, The Herald and the Sunday Herald. Most of the rest was spent on adverts in specialist titles such as the Times Educational Supplement and on the internet.
The story at Edinburgh City Council was similar. A cut from £553,000 in 2007 to £88,000 in the last financial year.
But the drop in newspaper recruitment advertising by some smaller authorities has been even more dramatic. Fife Council's spending fell from £714,000 to £23,000, Stirling Council's from £295,000 to just under £9,000 and North Ayrshire's from £346,000 to just under £25,000.
One of the smallest proportional drops was at Argyll and Bute Council although the fall was still substantial - from £304,000 to £131,000.
While some of the drop may be accounted for by a fall in the overall number of vacancies open to external candidates as councils tighten their belts, the bulk of the savings over the past few years have come from a change in the way jobs are advertised.
Across Scotland, figures from Cosla said £4m was spent on recruitment advertising in 2009-10 - the year before the latest figures from individual councils - against £13.5m four years earlier.
While some councils have saved a lot of money on recruitment advertising, it is still a drop in the ocean compared to the level of overall budget savings they are trying to find.
However the loss of council job advertising is another headache for newspapers which have been hit by falling sales and a wider drop in advertising.
Statutory notices
In April 2008, just before the council recruitment website went live, The Herald sold 65,000 copies a day while The Scotsman had a circulation of just under 51,000.
Last month the Herald sold less than 50,000 copies a day for the first time in living memory while The Scotsman's sales were just over 40,000. Both companies also have websites which try to attract online advertising.
Last week Trinity Mirror - which publishes the Daily Record and the Daily Mirror as well as local newspapers in many parts of the UK - said its regional advertising revenue had dropped by 10% as recruitment, property and motor all declined.
Last year newspapers fought hard to stop a move to allow councils to pull statutory notices such as road closures out of the press. It was claimed the move could have saved £6m a year nationally.
Some councils are already placing public notices on a national website and some believe fresh moves to end the compulsion to place adverts in the press are inevitable within the next few years.