London 2012: Scottish route unveiled for Olympic torch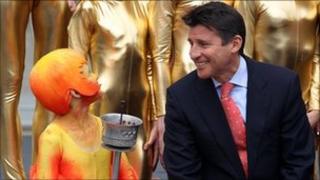 The Olympic torch will visit five Scottish cities and three islands as it tours the UK ahead of the 2012 Games in London.
The first 74 locations on the London 2012 Olympic torch relay route have been announced.
Evening celebrations marking the flame's arrival will be held in Glasgow, Inverness, Aberdeen, Dundee and Edinburgh.
The torch will also visit Orkney, Shetland and the Isle of Lewis.
The Olympic flame is due to arrive in the UK from Greece in exactly a year's time.
A search has also been launched for 8,000 inspirational people to carry the torch.
The torch relay will begin at Land's End on 19 May 2012 and end in the Olympic Stadium, London, on 27 July.
The flame is expected to travel an estimated 8,000 miles around the UK and once the detailed route is revealed later this year it is thought that 95% of the population will be within a one hour journey time of the torch relay.
The Scottish leg of the relay will begin in Glasgow on 8 June. From there the flame will be carried to Inverness, Shetland, Orkney and the Isle of Lewis.
It will then return to the mainland, visiting Aberdeen, Dundee and finally Edinburgh on 13 June.
Sebastian Coe, chairman of the London Organising Committee of the Olympic and Paralympic Games (LOCOG), said: "The Olympic Flame will shine a light right across every nation and region of the UK and showcase the very best of who we are and where we live.
"The first locations on the route confirmed today give a flavour of the reach the Olympic Torch Relay will have around the UK and how extensive the opportunity for starting to celebrate the London 2012 Olympic Games will be."
Full details of how to nominate potential torch bearers will be released later.