Fergus Muirhead answers your consumer questions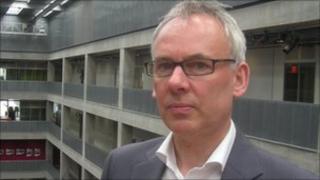 I'm Fergus Muirhead and I'm here to answer any questions you may have about any money or consumer issues.
Please drop me a line here at fergus@bbc.co.uk with your questions.
You can also read more on money and consumer issues on my own blog.
Q My little boy is 10 weeks old and every penny that I've been given for him I've kept. I'm close to filling his tin that I've been saving in for him. I want to put this in a savings account which he can't get access to until he's 18 so that he can buy a car. Can you advise me what would be the best option for me to take? It would need to be an account that I could also pay funds into but not withdraw. It needs to be able to earn interest but also have the security I need. Leeann Semple
A You might want to find the highest interest bank account that you can for the moment and put the money in there. Then when the new Junior Isas are brought out in November you should be able to invest in one of them (up to the proposed current limit of £3,000 per annum). These investments are tax free and if you want to save the money until your son is 18 then you may want to put some, or all, of your (or his!) money into a mix of different investments that might grow more than cash over an 18-year period. If you do this then you need to understand the risk that you are taking and that if the investments you make fall in value then you could lose some of your son's money. Make sure that the risk you might be taking is properly explained to you before you decide which investment is best for you. And remember if you put the money into a bank account for your son you can arrange to have the interest paid gross, i.e. without any tax being deducted first.
Q Can you ensure that you make mention on Wednesday's Reporting Scotland, in regards to making a will, that people can also leave a legacy to charity in their will? In order for them to make the correct choice, they can look through a directory with their solicitor which is called "Charity Choice Scotland" (which every solicitor in Scotland should have) that has details of most Scottish charities in it in order to help them get the right name of the charity and find out more. Ewan
A Happy to do that for you Ewan. Many charities depend on people leaving them money in their wills and it is a very tax efficient way to donate to charity since money donated in this way is not subject to inheritance tax. You can find out more about how to do this on HMRC site at http://www.hmrc.gov.uk/individuals/giving/will.htm
Q We are thinking of releasing some equity on our house, we have no mortgage, but wondered if you could advise us on how we can do this without compound interest. Mr & Mrs Budge
A If you have no mortgage and you are both over 60 then you should be able to apply for an Equity Release loan. The amount that you are able to borrow will depend on the value of your house and your age. If you don't want the outstanding loan to build up on a compound interest basis then you will have to pay the interest due every month as you go. In this way, when the house is sold, either on death or if you have to go into care, then the amount that will have to be repaid will be the same as the amount you borrowed. Depending on your ages and income levels you may be able to apply for a standard mortgage in which case you could elect to have an interest only loan as previously described or a repayment loan, where the monthly payments would be higher but you would be repaying the loan as you go along. You should take advice from an independent broker who can look at all of the options and advise you based on all of the products available that might be suitable for you.
Q I only caught half of a recent report on shares which stated that they would be released shortly for sale which hadn't previously been available, similar to the electricity, building society and gas release of shares, as I have a small sum of money which I would be keen on investing. Hope you can point me in the right direction. William Brown
A I'm not sure which report you refer to but thought it a good time to point out a couple of the pros and cons of investing directly in shares. Lots of people have made a lot of money investing in the Stock Market over the years and just as many have lost a lot! Some have lost money that they could ill afford to lose and what made me think about answering your question in this way was when I saw the phrase 'small sum of money'. If this small sum of money is unimportant (no money is really 'unimportant' these days but I mean that you reckon you could afford to lose it without compromising your standard of living) to you and you don't mind if you lose it or not then the Stock Market might be the place for you. If it's all the money you have and you need to take little or no risk with it then the Stock Market should perhaps be avoided. You might be better advised to keep it in cash and perhaps look for the highest interest rate you can find for the timescale over which you wish to invest. I'm making some general points in this answer because I don't know anything about the amount involved or your current tax position.